Tarangire National Park covers about 2,850 square kilometers. The name of this park is originated from the Tarangire River that cuts through the center of the Park. This park is found in the northern part of Tanzania and it's about only 2 hours drive from Arusha town. The main two attractions here are a high number of elephants and great baobab trees. There are many animals to see in this park although the best season for animals viewing is during the dry season. The dry season starts from June to October, so by this time large elephant herds and other animals, do not stay far from the Tarangire River. Elephants need between 100 and 300 liters of water a day to survive and for this reason, you find them digging holes in the sands of the River in order to get water. These holes attract also other animals because they usually wait for the elephants to dig up holes in the riverbeds and bring up groundwater to quench their thirst.
Therefore, this is the big factor why it's is recommended to visit Tarangire during the dry season. Still, you can see animals in other months apart of dry season months but are not many compared to dry season because from November to May, some of the wildlife leaves the park to Lake Manyara, or east into the Maasai Steppe considering that they can find water to those areas easily by that time. In the meantime, Tarangire National Park also provides great opportunities for birdwatching. Over 500 species are recorded here and the common bird species often spotted are Kori Bustard, the yellow-collared Lovebird, and Hornbills. There are some amazing optional activities such as night game drives and walking safaris that we can recommend you to do while at Tarangire National park.
Wildlife in Tarangire Park
Tarangire National Park is located in the north of Tanzania south of Lake Manyara. It is a protected area that is enriched with grassy plains, colossal baobabs, and huge herds of elephants estimated to be around 300 herds. You can also find big groups of buffalo, pride of lions, leopard, wild dogs, and rare antelope like gerenuk, cheetah, wildebeest, zebra, giraffe, spotted hyena, dik-dik, impala, eland, and more than 550 species of birds which can be seen throughout the year. Among all the famous wildlife found in Tarangire, this park is famously known for the big herds of elephants as it is the number one park with the large number of elephants in Tanzania which can easily be seen during game drives.
Birdwatching in Tarangire
Tarangire National Park is the countless birdwatching spot with more than 500 species of both resident and migratory birds. The diversity of birds in the park add an advantage for early morning game drives, when the birds sing during dry and wet seasons. Tarangire is rich in different habitats type that all attracts many bird species including the endemic species in Tanzania; rufous-tailed weaver, ashy starling and yellow-collared lovebird.
When visiting the park the most common birds that are easily spotted are lilac breasted roller, hammerkops, mouse birds, starlings, bee eaters, swifts, plovers, and barbets, bateleur eagle, white-faced whistling duck, boubou, white bellied go away bird, great white pelican and species of lark. Other species that are common in the park are spur fowl, francolins, shrike, weavers and hornbills. Ostrich, the world largest flightless bird and Kori Bustard, the world's heaviest flying bird can also be spotted in Tarangire National Park.
What is the best month to visit Tarangire?
The best months to visit Tarangire National Park is between the months of June to October. This is the period of the dry season and most animals are easily spotted. In addition, the roads within the park are easily accessible compared to when you travel during the rainy season where the possibility of stuck within the mad is high.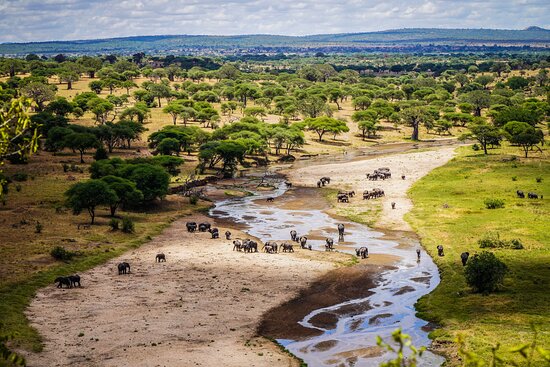 How to get into Tarangire National Park?
Tarangire can be accessed by either road or air transport. Arusha is the common starting point for most travelers. The distance from Arusha to Tarangire is approximately 140km and it takes up to 3 hours' drive. Apart from that, there are scheduled flight departing every day from Kilimanjaro or Arusha Aiport and the flight time depend on the routes because sometimes the flights are via Serengeti or Lake Manyara airstrip. In addition, there is an option for charter flights which is possible to arrange if clients do not wish to use the scheduled flights.
Is night game drive allowed in Tarangire?
Tarangire is one of the national parks in Tanzania that offers a night game drive. This activity is done after dinner around 2000hrs using an open vehicle, spotlight torches, a professional tour guide and an armed ranger to ensure the safety of the clients against wild animals during the game drive. The advantage of a night of night game drive is clients will be able to spot nocturnal animals and birds such as serval cats, honey badger, bush babies, nightjar and many others. In addition, it offers an opportunity for the clients to spot other mammals feeding or predators hunting. For more information regarding the price and itinerary, please contact us through our email address.
What is the best for Tarangire?
Tarangire National Park found in the northern part of Tanzania is mostly known for two great attractions. The first one is the high number of elephants and the second one is the great baobab trees. Currently, the elephant population in Tarangire is over 4,000 individuals, a dramatic increase from the 2,500 individuals counted in 2009. The increase of elephants has been achieved due to anti-poaching programs done by the government and other private organizations. If you really want to see many elephants in Tanzania then we recommend you include Tarangire National Park as one of the parks to be not missed during your safari. The good period to encounter big herds of elephants is during the dry season from June to October because by this time there are no other place in Tarangire where animals can drink water. It's only a Tarangire River that has water by this time. And due to this factor, you witness them digging holes in the sands of the River in order to get water considering that elephants need between 100 and 300 liters of water a day to survive.
Another factor making Tarangire famous is the availability of the great baobab trees. These baobab trees live about two and three thousand years, though some are thought to be as old as four thousand. While on your safari in Tarangire and once you stand around these trees you can be sure that they have spent quite some time on the planet and seen a lot of history. If they could talk, they would surely be interesting storytellers. So we invite you to visit Tarangire and enjoy these attractions. On top of these, In Tarangire, you see other animals apart of elephants such as Lions, Leopard, Buffalo, Wildebeest, Zebra, Giraffe, and others. You also find over 500 species recorded such as Kori Bustard, the yellow-collared Lovebird, and Hornbills.
Tarangire: When To Go? (Best Time To Visit)
Tanzania experiences alternating periods of wet and dry which does not only affect safari prices but they affect the parks also. During the wet season in November – December, and March-May, there is the availability of water which means that animals are free to roam far and will not be found in groups which is a bad game viewing. This means during the wet season is not a good time to visit Tarangire.
During the dry season in June – October, there is a rapid depletion of water in the park which forces animals to move closer to the few available sources of water like the Tarangire River and swamps of a river valley.